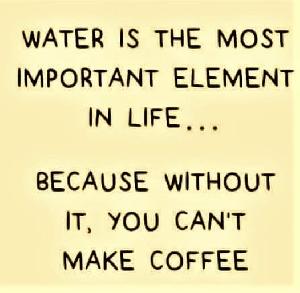 OUR BACK PORCH
Obama appointee fires broadside at religious-faith - Link

Other people's opinion of you has influence only if that person has value in your life.



State Department Admits - Obama Lied - Link

Never more appropriate than now.
"If you don't read the newspaper, you're uninformed.
If you read the newspaper, you're misinformed."
Mark Twain

Don't worry about the world coming to an end today ... it's already tomorrow in New Zealand!
Trust me ... They'll let me know and I'll tell you ASAP. Admittedly, I'm starting to wonder!

WHAT THE CLUCK?
Animal rescue teams in New Zealand got a group of rowdy roosters drunk on whiskey on capture them, local media reported.

The noisy fowl were bumbling around the town of Buller in the Westport region when angry neighbors reported them to animal control.

But animal control crews were unable to grab the roosters, which were running and flying around the neighborhood. When officers went to reach for three birds in a tree, the roosters only climbed higher, Buller mayor Garry Howard told local media. Staff then tried to catch the birds by putting a cage at the bottom of the tree, but a homeless person stole the cage, Howard added.

Unwilling to accept defeat, the animal control officers did what anyone might do in such a situation: they got the birds drunk.

"We asked Mr. Google about how to catch roosters and he came up with the idea to give them a bit of whiskey," Howard said, jokingly referring to the internet search engine. "Our animal control officer sacrificed some of his own finest Kentucky whiskey," he said.

In no time, the roosters began drunkenly rolling onto their sides, making it easier for officers to pick them up. But one "rebel rooster" with a particular taste for Kentucky booze was still on the loose, according to Howard.

It seems there is a raging issue in the US over the flying of the Confederate Flag. Read the following, written by a veteran and a hero of that terrible war.
On April 10, Lee gave his farewell address to his army. The same day a six-man commission gathered to discuss a formal ceremony of surrender, even though no Confederate officer wished to go through with such an event. Brigadier General (brevet Major General) Joshua L. Chamberlain was the Union officer selected to lead the ceremony. Later, he reflected on what he witnessed on April 12, 1865, and wrote a moving tribute:

"The momentous meaning of this occasion impressed me deeply. I resolved to mark it by some token of recognition, which could be no other than a salute of arms. Well aware of the responsibility assumed, and of the criticisms that would follow, as the sequel proved, nothing of that kind could move me in the least. The act could be defended, if needful, by the suggestion that such a salute was not to the cause for which the flag of the Confederacy stood, but to its going down before the flag of the Union. My main reason, however, was one for which I sought no authority nor asked forgiveness. Before us in proud humiliation stood the embodiment of manhood: men whom neither toils and sufferings, nor the fact of death, nor disaster, nor hopelessness could bend from their resolve; standing before us now, thin, worn, and famished, but erect, and with eyes looking level into ours, waking memories that bound us together as no other bond;—was not such manhood to be welcomed back into a Union so tested and assured? Instructions had been given; and when the head of each division column comes opposite our group, our bugle sounds the signal and instantly our whole line from right to left, regiment by regiment in succession, gives the soldier's salutation, from the "order arms" to the old "carry"—the marching salute. Gordon at the head of the column, riding with heavy spirit and downcast face, catches the sound of shifting arms, looks up, and, taking the meaning, wheels superbly, making with himself and his horse one uplifted figure, with profound salutation as he drops the point of his sword to the boot toe; then facing to his own command, gives word for his successive brigades to pass us with the same position of the manual,—honor answering honor. On our part not a sound of trumpet more, nor roll of drum; not a cheer, nor word nor whisper of vain-glorying, nor motion of man standing again at the order, but an awed stillness rather, and breath-holding, as if it were the passing of the dead!"
—Joshua L. Chamberlain, The Passing of the Armies, pp. 260–61

Samuel Adams:
"It does not take a majority to prevail... but rather an irate, tireless minority, keen on setting brush-fires of freedom in the minds of men."

"The Constitution shall never be construed... to prevent the people of the United States who are peaceable citizens from keeping their own arms."

Oops
Investigators say a Massachusetts woman who was trying to perform repairs on her house ended up blowing it up instead.

The homeowner, identified as 52-year-old Laurie Beliveau of Taunton, got out of the house before the Sunday afternoon explosion and fire and no one was hurt.

State Fire Marshal Stephen Coan and Fire Chief Timothy Bradshaw said Monday that the woman was trying to repair her gas-fueled hot water heater and inadvertently removed the gas shut-off valve. This allowed gas to pour into the basement, where it ignited.

The blaze destroyed the single-family home after firefighters arrived.
(Of course what happened before they arrived helped)

I'M NOT KIDDING!
-July 20, 2015
Fifty-two percent of all new driver's licenses issued in the state of California thus far this year have been awarded to illegal immigrants. According to the Associated Press, the California Department of Motor Vehicles confirmed Friday that approximately 397,000 licenses had been issued to illegal immigrants in the first six months of 2015 after a law went into effect allowing the DMV to issue licenses to undocumented immigrant workers in the state.

Amazing Coincidence
- SACRAMENTO, Calif. Gov. Jerry Brown has approved legislation to make California the second state in the nation to begin automatically registering eligible voters when they obtain or renew their driver's licenses.

Military Dog who saved more than 1000 lives dies - Link

The Obama administration wants to make sure that seniors on Social Security are mentally sound before they are allowed to purchase a gun, according to a new report from the Los Angeles Times.
If people in the Social Security system are unable to manage their own affairs because of "marked subnormal intelligence, or mental illness, incompetency, condition, or disease," the Times reports, those people might find it difficult to purchase a firearm, if that information is reported to the National Instant Criminal Background Check System.

At this point, Social Security is not required to submit information to the background check system, but agencies including the Department of Veterans Affairs do, causing problems for veterans who now have their Second Amendment rights taken away after they have been deemed mentally incompetent.

"If the Obama administration attempts to deny millions of law-abiding citizens their constitutional rights by executive fiat, the NRA stands ready to pursue all available avenues to stop them in their tracks," Chris W. Cox of the National Rifle Association said in a statement reacting to the proposed regulation.

According to the Times, the Social Security agency "has been drafting its policy outside of public view."
I'm Not Kidding!

Supreme Court Dissenters Speak Out

Check out South Pacific wind patterns - Where New Zealand stands - Link

Makes Sense To Me The Girls on Fox News - Link

A well-regulated Militia, being necessary to the security of a free State, the right of the people to keep and bear arms, shall not be infringed.
The History of the Second Amendment - Read about it, discover why - Link

Barstow California Bids To Host The Olympics - Link

- Click here for newspapers around the US, possibly your home town

- Click here for Weather Map of USA - Place cursor anywhere and see local weather

Car-jacker nabbed after senior-moment - A 64-year-old man in Geelong, Australia was arrested after the owner of the car he tried to steal called police. The ride stealing wannabe couldn't make a fast getaway because it took too much time to load his walker into the car! I'm not kidding.

Sen Cruz on Obamatrade
Another Republican votes to give Obama free reign ... I don't think so Ted.

"Fathom the odd hypocrisy that the government wants every citizen to prove that they are insured, but people don't have to prove they are citizens."
Ben Stein

Gas or Petrol
'Petrol' is used in most of the Commonwealth Countries while the term 'Gasoline' is basically used in North American Countries. Etymology of petrol is also quite interesting. The word 'gasolene' first came into existence in 1865 which was modified to the modern spelling 'gasoline' in 1871. Initially any other fuel other than diesel or liquefied gas which could be used in engines was termed as gasoline. The word 'petrol' came into existence in early 1892. Carless-Capel & Leonard, a German wholesaler, was the first company to register 'petrol' as a trade name.
Source: The Origin Of - Link here

Come back often, have fun, keep in touch and may God Bless You.
Mr and Mrs W-W

---
Input removed due to excessive SPAM. If you have comments to add to this page, please e-mail directly with the page and your name and comment.